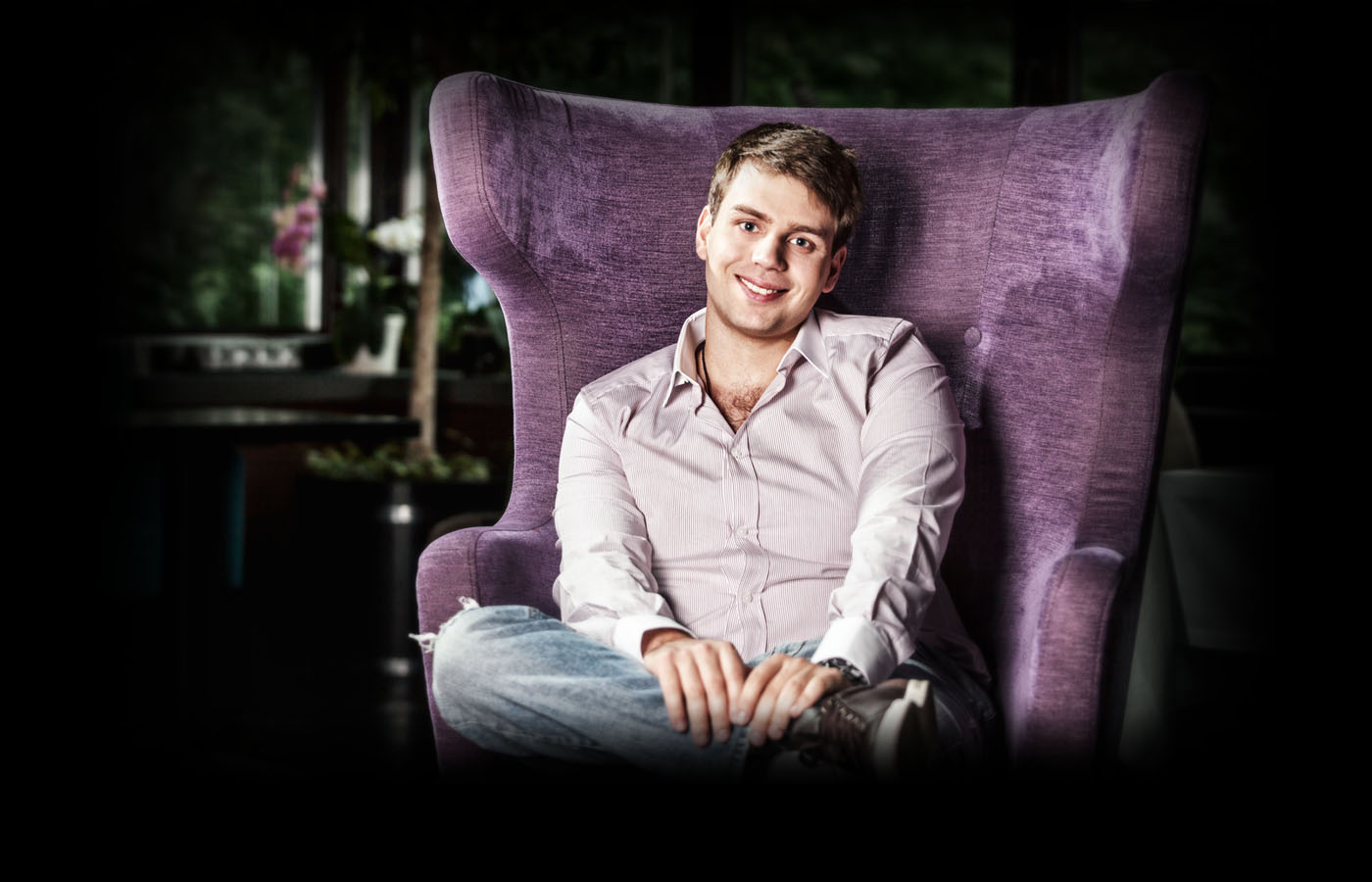 I'm 22 years old, but I can tell you with certainty that for the last 3 years I have been living in a very fast pace and have seen a lot during this time.
I gamble a lot (mostly poker), but from time to time you may see me playing absolutely any game.
This year I have accomplished great results; I have won 2 WSOP bracelets, which is a dream for the majority of poker players. 
It took me a long time to get to this point in my poker career, and sometimes I had to choose between having a fun and making myself learn something new in the game… Perhaps, I really fell in love with this game, for this is the only explanation that all the time I have been choosing the latter.
I have been through absolutely different situations… I have had insane rises (takeoffs?), but I've had downfalls too. Since my first year at the university I have understood that I was not going to work according to my academic concentration, and I began to dedicate part of my spare time to poker.
I began to earn money, very good money, and at one point I even might lost its meaning. Sometimes I could win or lose the equivalent of a couple of cool cars, but I always believed that playing correctly and skillfully I would be able to get it back. I also observed how money affected other people, and to my deep regret not to for better. For many people a momentary profit may become more important than multiyear and deep relationship with others. At one point I realized that for the majority of people almost anything has its own cost, and these people pay attention to some external demonstration and don't look closely at what is much more important that money can't buy.
I am very often told that I am the luckiest one on earth, and I am pretty much comfortable with this statement, because I want myself to believe in that. I doubt that without a little luck I could have managed to climb these peaks in poker and other sides of my life. I consider myself as not bad guy, and I want good ones to be lucky.
For the last 3 years I have traveled a lot and spent most of my time far away from home. Every year I visit more than 20 countries and I wanted to see each single country the way its locals saw from within. I observed how people lived in different parts of the world and I realized that the way the majority of them lived was not comforting my thought. I want to understand what I want to achieve and I want to strive for it. Family and kids are the most important thing that should happen one day, but for now I am too young to ponder this, although sometimes I am thinking about such stuff.
Getting ahead for 10 years or so I see myself a happy family guy with a couple of kids.
In my circle there are many girls, but I try not to waste myself on plenty of occasional relationship. I rarely fall in love, but if I do I feel myself as the happiest one, and I am ready to build up our relations and to struggle for them if the girl deserves it. I want my girlfriend to have an interesting and rich life with and without me, to have a good education and interesting job, diverse hobbies and … I want her to see myself as the one whom she's going to love for being just me rather than for the way I may improve her own life.
I honestly think that a man is being assessed according to his woman (not only her appearance) and that his woman is capable to inspire him to new highs. I want my girlfriend to be able to stir up such emotions which would inspire me to always go forward, and I do hope that I will do the same to her. Unfortunately, sometimes it doesn't happen the way I wanted it to be. There were times when I was left brokenhearted. I felt sad, it really hurt, but at one point I realized that I was also responsible for the broke-up. Sometimes it happened the opposite way and I hurt the one I was loving. It feels much more painful when you hurt the one beside you and you do it on purpose. But when you realize that in time it is going to be even worse – yes it's difficult, but you feel that you are doing the right thing. You want her to be happy.
I always try to help other people, especially my friends. It is hard to offend me, or it is more correct to say that in a couple of minutes I usually forget the bad thing as though it has not happened. Although I must admit that people tend to disappoint me more and more. But I do think that there must be a second chance.
I often spend my time along with friends and I enjoy new acquaintances in my life. There have appeared many new people in my circle, almost from all over the world, with whom I enjoy talking. However sometimes I feel a need to be on my own, to go to a calm place or to spend the whole day at home without any communication with others.
I began to more value my own time. There are just a few people in my life with whom I am open to meet always. There are also a few with whom I am glad to meet when I have a desire. As for the others, usually they need something from me or I need a thing from them. Even if we spend a lot of time together, build up our mutual plans, I do not feel sincerity towards them, and at one moment I am ready to leave such people with no regrets.
Sometimes an insane thought may pop up in my head, it may seem to be nonsense, but anyway I will be following it just because I like it and I feel capable of making it happen. Sometimes I do certain things just in order to challenge myself. The things that are important only for myself, and others simply don't care about them, but when I have them done I realize that I have overcome my little inner barrier and I become stronger.
When I was 20 I decided that a speedy motorcycle was cool. Then I bought one and for 2 months I was extensively learning to ride it. There were collapses, especially at the very beginning. My relatives were against this, but I assured them that this was safe. Now it's changed, I worry, but not for myself. I began to worry that people close to me may be hurt if something bad happens to me. I do ride occasionally, but this fear is within me.
Feeling free, when you say what you want and can let yourself do almost everything and when you depend on nobody – this is probably one of the best feelings that a one may have. This is what I would like to pursue now and in the future.  It is true that when one has family and children there are other things that become more important, stable and reliable, and you start taking care of yourself not because you need it but because of the question 'who's going to take care of my children if something goes wrong with me?'. In any case there are some very personal and intimate moments which you can afford when you're single. These are tiny, senseless things which nobody needs or even understand expect for you. But they add the sense to your living. These are emotions which you will never forget and will always appreciate for having had them.
And I do want my best friends and relatives to be proud of me.
14.08.2012